WELCOME TO THE WORLD OF
KIDS & STUFF MERCHANDISE LTD.
Custom Plush Toys, Mascots, and Merchandise Factory
📍 Based in Bulgaria, Europe
Based in Bulgaria, Europe, Kids & Stuff Merchandise Ltd. is your gateway to a world of enchanting and lovable companions. We are proud to be a leading custom plush toys factory, where every stitch is woven with love and care.
A World of Possibilities: Custom Plush Toys Factory 
Here at Kids & Stuff, our passion for creating unique experiences drives us to perfect the art of custom plush toy manufacturing. With meticulous attention to detail, we bring to life imaginative characters that will captivate hearts and ignite young minds. Our plush toys are more than just playthings; they are soft, huggable friends that withstand the test of time.
**Safety and Excellence: Our Guiding Principles**
We hold ourselves to the highest standards regarding the safety and quality of our products. Every plush toy is crafted using the finest materials and adheres to rigorous safety guidelines, ensuring a worry-free playtime for kids and peace of mind for parents.
CUSTOM-MADE SOFT TOYS 
**Your Imagination, Our Creation: Custom Made Soft Toys**
 Discover the magic of personalized plush toys! At Kids & Stuff, we offer custom-made soft toys, allowing you to unleash your imagination and create unique playmates tailored to your vision.
**Join our world of joy**
At Kids & Stuff Merchandise Ltd., we take pride in our craftsmanship, attention to detail, and commitment to customer satisfaction. Choose us, and you choose a world of exceptional quality that will bring smiles and warm memories to children everywhere.
Explore our collection and unlock the wonder of our custom plush toys today! Let's embark on a journey of joy together.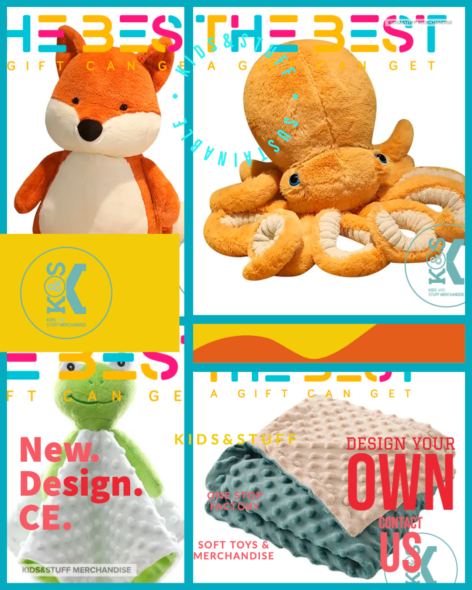 Beyond Plush Toys:
A World of Merchandise

Embrace cosy comfort with our Montessori-inspired baby ranges, featuring blankets, doudou, and Quiet Books.
Express your style with our range of Beach Towels, and more.
Keep it playful with our vibrant Socks, perfect for every adventure.
Carry your love everywhere with our adorable Keychains.
Collect your favourite characters with our charming Figurines.
Hit the playground with our sporting goods, including soccer, basketball, and PVC balls.
Create a mesmerizing wonderland with our Water Globes, some even come with a music box.
Captivate shoppers with eye-catching Backpacks and Drawstring bags
Engage young minds with our Puzzles and Booklets.
Bring stories to life with our captivating Character Development and Illustrations.