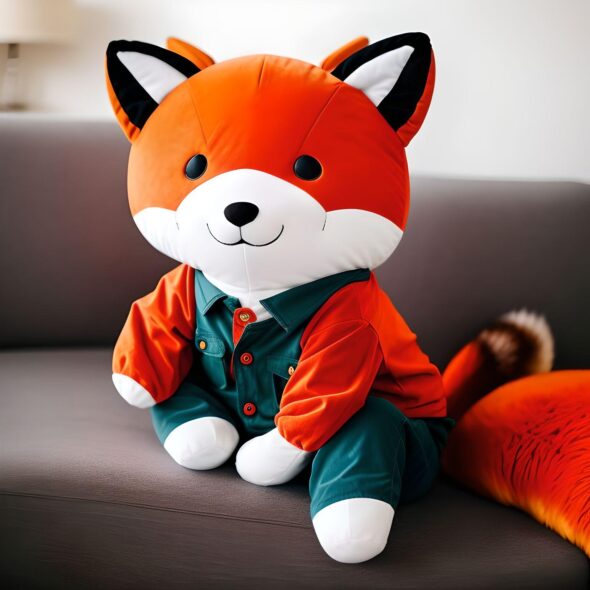 Our enchanting collection features an array of sizes and characters, offering something for everyone. Whether you're seeking a pint-sized friend to sit comfortably on your desk or a huggable buddy to accompany you on adventures, we've got you covered. From petite palm-sized plushies to larger-than-life cuddle companions, our diverse selection ensures there's a fox plush to fit every preference.
Endearing Characters to Adore: Step into a world where imagination knows no bounds. Our fox plush toy collection brings forth a captivating array of characters, each with its own unique personality and style. From mischievous little foxes with twinkling eyes and playful grins to elegant foxes that exude an air of regal sophistication, there's a furry friend waiting to steal your heart.
Perfect for All Ages: At PlushToysFactory, we firmly believe that cuteness knows no age limits. Our fox plush toys are designed to be cherished by everyone, from the young to the young at heart. Whether you're looking to surprise a child with a new snuggle buddy or you're seeking a charming gift for a friend, our plush foxes are the ideal choice.
Unmatched Quality and Craftsmanship: We take pride in delivering plush toys of exceptional quality and craftsmanship. Each fox plush is meticulously crafted using premium materials, ensuring a soft and huggable texture that's perfect for cuddles. Our attention to detail and dedication to creating endearing designs set us apart, making every fox plush toy a true work of art.
A Delightful Addition to Any Collection: Whether you're an avid collector of plush toys or simply seeking a heartwarming addition to your living space, our fox plush toys are a delightful choice. Their whimsical allure and undeniable cuteness are bound to brighten any room and bring smiles to faces.
Experience the Magic Today: Step into the world of the cutest fox plush toy collection at PlushToysFactory. Explore our wide range of sizes and characters, and find the perfect furry companion to call your own. These lovable foxes are more than just toys – they're cherished friends that will bring joy and warmth to your life.
Indulge in the world of cuddles and charm. Visit PlushToysFactory today and discover the magic of our enchanting fox plush toy collection!